"Brian Jones"
2012 marks the 50th anniversary of The Rolling Stones. Brian Jones is the man who founded the band...
July 3, 2012 marks the 43rd anniversary of the passing of Brian Jones. It was Brian who took the name of the group from a song by Muddy Waters. Some have called him "the soul" of The Stones because of the shades and colorings that he tinted the early Stones songs with as a musician.
It has been pointed out that in those early days, Brian lived the life that Mick & Keith only wrote about…and that upon his death, Mick & Keith's personas became equal halves of Brian's. Yet it is Mick & Keith who became Rock Icons and Brian who has become just a footnote in their history.
The term "sex, drugs & rock'n'roll" could have been coined to describe how Brian lived his life. His is a modern "classic" tale of rising to the ultimate heights of success and power, only to lose it all. His descent has been well chronicled. It is the "understanding" of that descent, where the lesson is to be learned.
The song "Brian Jones" is an attempt to pay homage to the man, with the Truth as the underlying principle. Brian is more a tragic than heroic figure here. A man who lost sight of life because he did not understand the consequences of his actions and ultimately, "karma" made him pay a heavy price.
Brian Jones should not be forgotten because any of us could meet with the same fate someday, and so, his story should serve as a lesson for us all.
DownTown MysTic
January 2012
Once there was a man I didn't know
I saw him in a band
He flew high too fast he didn't know
where he would even land
He let someone be his eyes
and soon he lost all his sight
Paranoid days and nights
he lost his life
Brian Jones he used to be a man
but did not understand
why he would be the one
to lose all that he had
when everything turned bad
He did not understand
He ruled both time and space he had it all
but they cast him an evil eye
And so the stage was set fate let him fall
when he threw that final die
He lost his soul late one night
when he needed a helping hand
With only fears left for life
he left for life
Brian Jones he tried to be a man
but did not understand
why he would be the one
to lose all that he had
when everything turned bad
He did not understand
DownTown Diary
The Forgotten Stone: Brian Jones...
Part 1: Into The Mystic
When famed LA DJ Rodney Bingenheimer played my song "Brian Jones" on KROQ, LA's top Rock Radio station, it was
the payoff on a "promise" I had made many years before. Why and how I came to write this song is a story, so surreal, that I tell here for the 1st time, and as they say, "the Truth is stranger than fiction"...and this tale is far stranger than anything I could make up…
I was replacing old vinyl copies of albums with new ones, particularly ones from
1965 &
1966. I had just purchased "Revolver" by The Beatles and decided to check out "Aftermath" by The Stones from that same year…I should say here that my favorite Beatle was John Lennon and my favorite Stone was Brian Jones, who had been fired from the group and died a few months later by drowning in his swimming pool in 1969…
Why were Lennon & Jones my favorites? I don't know why, except that when I first saw them performing with their respective bands, I had this immediate reaction to them…they personified "coolness" for me on 1st sight…you'll understand why I mention this as you get
deeper into this weirdness…
For me, The Stones were always a pale comparison to The Beatles in creativity & invention…but that's not why you listened to The Stones…you listened to The Stones when you wanted to hear some great rock'n'roll…and they made and played some of the greatest RnR ever caught on tape!
But the curious thing about listening to my new copy of "Aftermath" was the track that would capture my attention…it wasn't a rocker…no, it was a strange little acoustic song on Side 2 called "I Am Waiting" that
would turn my world, literally, upside down…
What was it about this fairly non-descript track that caught my ear? It was the voices…not 1, not 2, but 3 of them…I knew Mick & Keith had sung harmonies together, but I was hearing 3 voices doing harmony together on a forgotten Stones track from 1966! Let's face it…they were never CSN! But the more I listened to the track, the more I heard 3 voices doing 3-
part harmony! Very strange indeed!

I would play the song for everyone that would come in the house and ask them how many voices they heard…and the answer was always 3! (Actually, a couple of people could not hear
more than 2 voices, which tended to confirm my suspicions)...Then I would tell them that the 3rd voice on the record was that of Brian Jones (here is where the story gets freaky) and that I believed I was in contact with his spirit! Not only that, but I also believed that his voice wasn't really on the record!! And the response I got back only confirmed it more for me...goose bumps or raising the hair on their necks or arms...
OK…I've obviously skipped past the part of when I came to this realization, but it's my story and I'll tell it my way…
A year earlier, I had been introduced to Numerology, the ancient occult study of numbers. I found that I had a natural disposition to understanding Numerology, as if I already KNEW it…this led to my investigating other areas of The Occult and all things Mystical…
The Stones had probably been the 1st band to use the trappings of the Satanic for RnR PR, with their "Sgt. Pepper" clone "Their Satanic Majesties Request", which became even more evident with "Jumping Jack Flash" and "Sympathy For The Devil"…
There are books about The Stones that reveal that Brian, Mick & Keith were certainly delving into The Occult, as were other musicians of that time like John
Lennon and Jimmy Page…in the swinging 60's of London, they were being turned on to the writings of the famed Black Magician—Aleister Crowley…he took the number 666 for himself and was known to write about his mystical visions under the influence of opium & heroin, to which Crowley was addicted…as Keith, Lennon and Page would become…
So how did I come to believe I was in contact with the spirit of a famous rock star, who had died many years earlier? By listening to an obscure track on a record made in 1966…
The more I listened to "I Am Waiting", the more I became convinced that the 3rd voice I was hearing was that of the late Brian Jones…who never recorded the vocal when he was alive…but was singing from beyond the grave for my ears!
Part 2: The Grateful Dead...
I'm well aware of how crazy this sounds…how could I believe this? I had made a recording years earlier with 2 other people, and we sang 3-part harmony…on playback we heard 4 voices…but the 4th "voice" was an overtone created by our 3 voices, and was actually an octave above the bottom voice…
On the Stones track, the 3rd voice was singing a distinct 3rd harmony part to the other 2, but I was quite certain that neither Brian, nor any other Stone had recorded that part…how did I know for sure there were really only 2 voices on the record? Not everyone who listened to the track could hear the "3rd voice"...they swore they could not hear more than 2 voices...
Little by little I was coming to the conclusion, intuitively, that the voice was Brian's…and somehow, through mental telepathy, I was in contact with his spirit…and I say that knowing full well, that I'm a very skeptical person...
One night I dreamed that I had a meeting with Brian…we were playing guitars and I was kind
of giving him an "attitude", and he seemed to withdraw from me...the interlude was quite brief, but he came across to me quite vividly…I very rarely remember my dreams but this one had a very "real" quality that you don't usually get in a dream…
The "attitude" in my dream towards
Brian had come from exerting the power of my "will"...I knew that I needed to protect myself from unclean spirits…my studies had shown that this could all be a trick by an evil spirit, just using my desire for it to be Brian and my willingness to want to help him...I was not about to open myself up and allow some spirit to enter me...
So when I saw Brian in my dream, I could feel myself become defensive and this made my "attitude" obvious enough to Brian that he shied away from me...if this was really Brian...at any rate, I was determined to keep any spirit at arm's length for my own protection...
I began to make contact with Brian's spirit via telepathy, and after a few sessions, came to understand that his spirit was not happy by the way his life had ended…he was not remembered for the greatness he had achieved but rather the infamy of his death…gone and all but forgotten...indeed, the early history of The Stones was being re-written by Mick & Keith and Brian's place was getting smaller & smaller…
I agreed to try and bring his name back into the world, but on the condition,
that the Truth be allowed to come out and "let the cards fall where they may"…if I was successful, Brian's spirit would become, what is known as "The Grateful Dead". This is when someone rights a wrong in the material world, freeing the wronged spirit to leave its earth-bound attraction and move "into the light"…
One night, I was playing my guitar and began playing a riff…soon the words were coming out and within 15 to 20 minutes, I had written a song called "Brian Jones"…I realized that the song put much of the blame on Brian's shoulders, and made him an example of the excess of too much "sex, drugs & rock'n'roll"…but as they say "the Truth will set you free", and I thought that if Brian faced his life & death honestly, he could move "into the light"…
As much as I had written the song about Brian, I also realized the song was a message to myself, and fairly addressed the path I was on, living in the "fast lane"…some people thought I was pointing fingers at Mick & Keith, but if anything, I thought the song for the most part, took the blame off of them and placed it squarely on Brian,
who wasn't always the nicest of people when he became famous…there was a moral to his story and Brian's would be an example to all those who would venture down that same path…this would be Brian's legacy, a legacy that would allow future generations to hear and appreciate his musicianship and creativity, while learning the high price to pay for not understanding the consequences of one's own actions…as they say, "karma's a bitch"!

It wouldn't be long after writing
the song that many coincidences started to occur...one night, in a NYC club, a totally surreal scene unfolded before my eyes...I was sitting across from the bar near the entrance, when the door opened and who should literally, pop in through the door but Mick Jagger, pulled in as if by magic, coming down to sit right next to me! Our knees were actually touching, and I sat there, not moving a muscle, taking in his "vibe" as if I was invisible…what else could I do?

With everything that was happening to me, this seemed so unreal, and at the same time, expected in a weird way...I'm "hanging out" with the spirit of Brian Jones and he wants to "hang out" with some of his old mates, I guess...makes perfect sense, doesn't it!!??

Mick was a ball of energy as he shot up out of his seat, pacing back and forth, and began lecturing the woman he was with, as if for my benefit, "to remember who she came with"…which I thought was really kind of odd behavior, and then he strutted off to the men's room...I looked over at the woman and it was a moment before I realized she was Jerry Hall...she was nearly unrecognizable from what appeared to be too much partying...but I digress…Mick came back and left with her and I would run into him again, a few hours
later, in the back room of another club across town...but that's a story for another day...
Then I would meet up with author David Dalton, who knew The Stones fairly well, and would go on to write a Stones bio. I told him I had written a song called "Brian Jones" and about hearing his "voice" on "I Am Waiting"…
David showed me the lyrics to "Waiting"
and he himself admitted that they were a bit macabre, especially when set against the innocent sounding music…like a wolf in sheep's clothing…
oddly enough, he thought they were written about Brian...
He also told me that both Mick & Keith were very "superstitious" about Brian and didn't like to talk about him…the mere mention of Brian's name would "freak them out"…I thought that was certainly strange and things were about to get even stranger for me…
Part 3: Touched By A Devil...
David Dalton in his book "The Rolling Stones—The First Twenty Years", says "Brian was a dare-devil who liked to toy with the satanic…perhaps in his flirtation with the dark powers, he let them sink their talons too deeply"…he goes on to quote Arthur Machen in "The Great God Pan"—"Forces of Evil, in the magic sense of the word, are always lying in wait for certain individuals, ready to spirit them away to the other side of the world"…
Those words, "lying in wait", send
a chill down my spine…the song "I Am Waiting" is about that very thing…if that doesn't make the hair stand on the back of your neck, after reading about my adventure so far, I don't know what will…and I'm just getting to the really freaky part of the story…

I might have been a delusional paranoid by this time, but my intuition was still serving me well…this was like a great mystical mystery to me that I needed to solve…had Brian been taken over to the "other side"? Was he "lying in wait" for someone to help him or was it some dark spirit using Brian's persona as the bait, like a wolf in
sheep's clothing?

The second idea seemed very plausible to me but I was in too deep to stop…there was something going on that was very real to me, yet would be very crazy sounding to a normal person...and I certainly was not normal...
So I came to the decision that I would risk my sanity and pursue this "madness" with this entity—Brian, by making a deal with him…one night I "called him out", so to speak, kind of like I did in my dream of him…but now I wasn't dreaming…if he wanted something from me, I wanted something from him…
I wasn't going to pull any punches with him either…if you think you can dance with the devil then you'd better be prepared for it…I mean, isn't it just like the
ego of a human being to think they can call up some unearthly power to control and do their bidding? But I wasn't interested in that…I wasn't going to end up like Aleister Crowley, jerking off into bottles and selling them as a "magic elixir" to support his drug habit…
I said, "ok Brian, here's the deal…I know that you're not in the best of places if you're still haunting the earthly plane…you've come from your grave in England to appear on my turntable here in the US to get my attention (how nuts does that sound?)…you want something from me but I want something from you in return"…
I continued, "I'm in a pretty dark place, hanging out in the clubs in NYC, dealing with the bowels of the music industry, and I could use someone with your experience to watch my back"…ok, I AM nuts! But this IS Brian Jones, the original madman I'm trying to cut a deal with! I figured if I was going to go into "the belly of the beast", who better to have as a
guide?

I was no fool…I knew all about Brian…just look at his puffy face in the picture there…it was at The Stones filming of their "Rock'n'Roll Circus" and Brian would be dead within 6 months of that show…he was only 27 when he died and when they did the autopsy, the coroner said Brian's heart had deteriorated to the physical state of a 60 year old man! Can you say "party hearty"?

Mick , Keith & Brian had all been busted on drug charges on separate occasions, but only Brian was convicted…that pretty much sealed his fate in The Stones because with the conviction on his record, there was little chance of him getting a visa to tour the States in 1969…with this and his physical and mental states in evident deterioration, along with his guitar playing, Brian was now a serious detriment to the band…

The story goes that Mick & Keith had been plotting to kick Brian out of the band for some time, and now, he had provided them with
the means on a silver platter…so Brian was fired from the band in early 1969 and left London to live in the quiet English countryside in a house once owned by author AA Milne, who wrote "Winnie The Pooh"…

When Brian moved in, he decided to have renovations done on the house…but the workers he hired to do the job looked at him as a rich burned out rock star, and because he was no longer in The Stones, they began to take advantage of him…this had been a major problem for Brian…The Stones would hire people like chauffeurs and a live answering service to keep an eye on him, and they in turn would rip him off, thinking he was too "out of it" to know any better…

But if you read Bill Wyman's book "Stone Alone", the Stones were not rich by any means in 1969…and very shortly, Brian began to realize that the work was taking longer than necessary and the charges were exorbitant…

One fateful night in July 1969 he had a party out by his pool with the workmen…it would be Brian's last bash…in the early hours of the morning, the party had dwindled down to Brian, his girlfriend, the workers' foreman and his girlfriend…with the girls inside, Brian went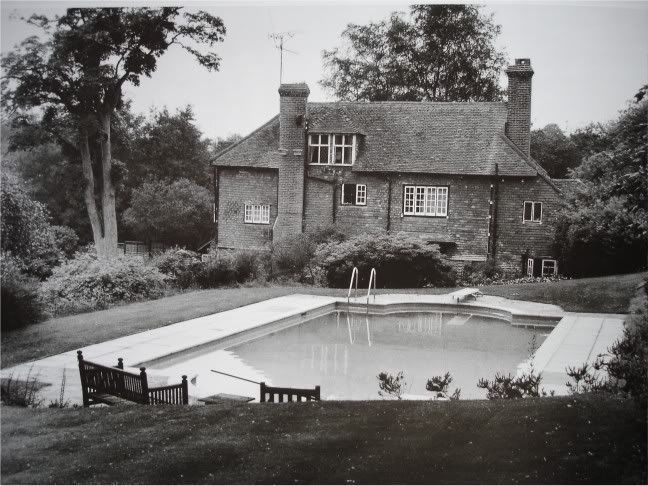 for a swim and would be pulled from the water by the foreman, a drowning victim…

The police ruled it an accidental drowning—case closed…it was more likely a case of manslaughter…Brian had probably had words with the foreman, telling him he was letting the workers go and the foreman was not having any of it…years later, the foreman on his death bed, supposedly confessed to killing Brian by holding his head under the water…he said he had not meant to kill him, but only put a scare into him…unfortunately he put too much water into Brian and put him 6 feet under…

The house was ransacked the next day with all of Brian's guitars, antique Persian rugs and
everything of value taken…it would appear to have been an inside job…an ignominious end to the once great rock idol—Brian Jones…
But I digress...I was making a deal with Brian...
Now feeling confident, I went further with Brian, "if it's the decadence that you're here for, then you can have it…but if you really want to get out of the place you now find yourself, then you'll help protect me…for my part, I'm going to play straight with you and hold up my end of the bargain to help set your spirit free, whether or not you want it"…
As I already said, I was pretty much living in the "fast lane", where "sex, drugs and rock'n'roll" are the main course…if Brian or some dark spirit masquerading as Brian, had attached themselves to me, then they were coming along for the ride…and believe me, "ride" is the operational word here!
Part 4: A Date With Destiny...
During this time I had met Garry Tallent, the bass player for Bruce
Springsteen's E Street Band…my band had signed a production deal and I asked Garry to record with us…he agreed and would play on the sessions and he would also play a show with us in Asbury Park, when we first introduced the song "Brian Jones"…
Garry was going to go out on tour with Bruce, but before he left, he wanted to produce what would be the 1st recording of "Brian Jones"…this was a huge deal
for me! I couldn't wait for the day to arrive, and when it did, I got up early to go out and get some tape and things for the recording session that night…
I was on a back road coming back from the store, less than 10 minutes from my house, when I was distracted by something that had fallen on the floor of the car…I leaned over to pick it up and could feel the car drifting off the road…I knew there was nothing but woods if the car went off the road…
In the blink of an eye, I laid myself across the passenger seat and felt the car starting to rise on the wooded hill off the road…I could feel the car going over bumps, and what seemed like only seconds later, I sat back upright in the driver's seat looking back down the road in the opposite direction—about 30 or
40 yards from where my car had run off of the road!
A motorist, who was driving in the other direction, had stopped to see me go off the road…he leaned in the passenger side window and looked at me in wonder…he shook his head in disbelief and said, "I don't know how you survived that…you're very lucky to be alive!"
To this day I don't really know what happened, but judging from the dents and skid marks on the roof, it seems the car had flipped over…it was totaled…and all I could think about, as they took me to the hospital, was the recording session that night, which had to be cancelled because of the bumps and bruises I had sustained in the accident…
I was pissed off—big time!! Never mind that I had just totaled my car and escaped with my life…I was going to miss my chance to record with Garry Tallent that night and there would be no other chance as Garry left to go on tour the following week…
Now here's what might be the weirdest thing about that day…before I left the house, in the
quiet of my room, I actually asked Brian to be with me that day…I don't really know why I did, but something came over me, so I asked him out loud in the room, to be with me and "watch my back", so to speak…
Were there dark forces around me that wanted to do me in? Had Brian saved my life that day? Or had he been unhappy with the song "Brian Jones" and sabotaged me in the car?
It's madness really, isn't it? The simple explanation is I let myself get distracted, lost my focus behind the wheel and crashed my car, lucky to escape unharmed…but here's the thing…
From that day on, I never heard the "3rd voice" on "I Am Waiting" again, and all contact with the spirit I assumed was Brian Jones was over! (I bet you didn't see that coming!!)
So I was on my way to becoming the Mystic I am today, developing my psychic powers. I managed to escape the pitfalls that had killed Brian Jones...thanks to understanding his story...and I was true to my word by getting his song out to the world, before the public once again, thanks to Rodney Bingenheimer and telling his story here on this website.
Had Brian done his good deed and gone "into the light"? Or back into the dark, waiting for a more suitable target? Hopefully he's at rest, his soul restored, and at peace.
Epilogue...
During the time I was in "contact" with Brian's spirit, I had made the acquaintance of a musician in NYC, who I will call "Pan", due to his resemblance to the classic images of the Greek god of forests, Pan...portrayed as half man/half goat with horns on his head. "Pan" was a sax player and heavily into drugs, with the paranoia to match. He was a strange guy to begin with and he
got stranger the more I saw him. The really odd thing was that he reminded me of Brian in many ways. He could be a really nice guy one moment and a real cruel shithead the next. He claimed people were trying to kill him and he started carrying a gun. I decided it was time to separate myself and keep my distance from him.
Was this all just one big coincidence coming in contact with Brian and Pan around the same time? And isn't coincidence actually the coinciding of events? There's an old occult saying—"as above, so below"…meaning that the very people I was meeting on this material plane we call "reality", had their counterpart on the spiritual plane. The dark forces I felt around me were being manifested by the people I was coming into contact with like "Pan"…
About 6 months after my car accident, I was hanging out in the Hollywood Hills, literally…I was camped out in Laurel Canyon, pitching a tent next to my then manager's hot tub…his
closest neighbor was Donald Cammell, who had directed Mick Jagger & Anita Pallenberg (the woman who broke Brian's heart by leaving him for Keith) in the controversial movie "Performance"…it turns out that Cammell's father had once wrote a book about the black magician Aleister Crowley and Cammell himself used to talk about sitting on Crowley's lap as a child! He was very into the "Dark Forces"…coincidence?
On my 1st night there, I had dinner with my manager, his wife and his brother, whom I had never met but knew was a friend of Pan's…that was how I met Pan to begin with…a year earlier we were in a club in NYC and my manager introduced me to Pan as a friend of his brother's…more coincidence?
After dinner I finally had a chance to talk to my manager's brother and the first thing he said to me was something about Pan…now I hadn't seen or spoken to Pan for a few months when I went to LA, and the brother asked me if I had heard about Pan? What was this about??
I said no and his reply was "Pan is dead"!! He had OD'd on heroin…I was stunned and felt my body shudder…had Brian's spirit left me for Pan to claim as his victim? The simple explanation was…it was just a matter of time before Pan took too much or got hold of a bad batch of H…but...
Remember the quote from "The Great God Pan"? "Forces of Evil, in the magic sense of the word, are always lying in wait for certain individuals, ready to spirit them away to the other side of the world"…
I told you "the Truth is stranger than fiction"...and every word here is true...freaky, huh??
©2001-13 Sha-La Music, Inc.